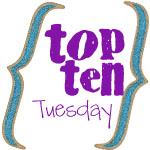 So it seems that I only blog on Top 10 Tuesdays! Horrible blogger that is me. Oh well, I guess that I could use the excuse that I started a very part time job, but it only takes up about 6 hours a week! Anyway on to my Top 10. I LOVE
ETSY
!
Etsy
is a place for all things handmade and for those to sell what they love making. I believe in purchasing to help support
Etsy
members. So I am listing my Top 5 purchases and my Top 5 favorite stores! You have been warned, there are LOTS of links to check out!
1. My first
Etsy
purchase came from
Alaiyna

B. Designs
who sells hand stamped personalized jewelry, wearable art jewelry and
lampwork
beads. I bought this necklace charm and had it personalized. On it I had my son's name, birth stats and dedication scripture hand stamped. I also included the birthstones of myself, my husband and my little man. I love it and get so many compliments on it. And of course I send them to
Etsy
when they ask about it! I am so happy with this purchase. A great gift for moms.
10. I just love
Etsy
! My list could continue beyond a top ten. When purchasing gifts please check out
Etsy
. You never know who you are supporting by purchasing their goods. It could be the starving artist, the college student having to pay their own way through, or a stay at home mom who is trying to contribute financially to her family.
I hope my post has not worn you out with all of the links! For more fun Top 10 lists check out
Oh Amanda's Blog
.